Style Signature: Meet Rachel Park
Well, I'll admit it's odd doing a Q & A with yourself, but I wanted to kick off my "Style Signature" series by sharing my own designer story! (Working in menswear, I also often connect with other incredible creatives within the menswear space — especially creators of color — and can't wait to share our inspiring stories here!)
Thanks so much for reading!
Tell us about your brand, Rachel Park Designs.
I proudly create made-to-order luxury ties, bow ties & wedding ties. Since I'm a completely bespoke service, I work directly with my clients and thoroughly enjoy it. Because of these relationships, designing for my clients feels like more of a partnership.
It's important to me to offer a quality product and service, with a high-level of attention to detail that I can take pride in. My clients always love their custom ties and tend to return. And that's how you build brand loyalty.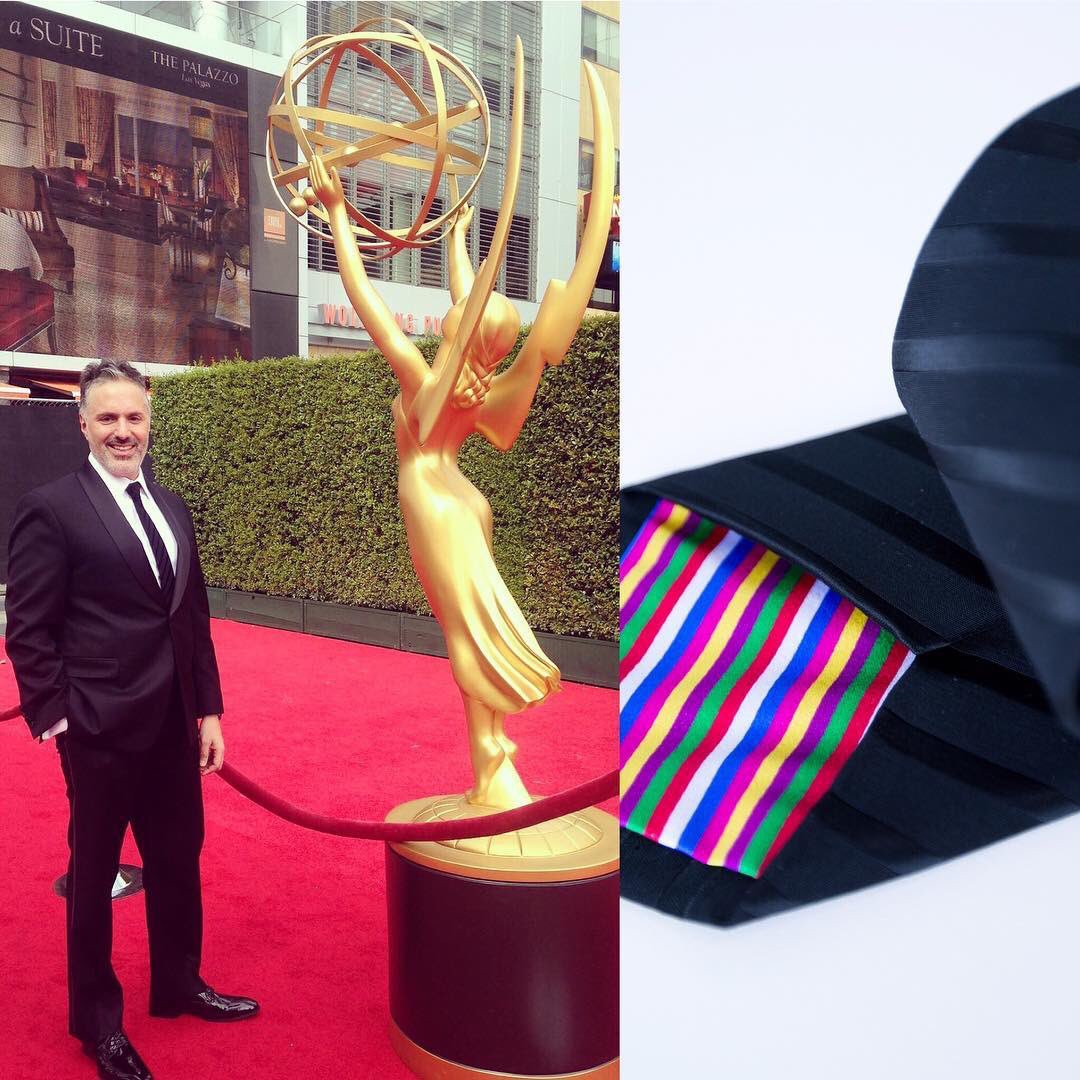 Who is the Rachel Park Designs client?
People who own their unique style. They value quality, craftsmanship, fit and are willing to invest in bespoke clothing. They love customized details and exquisitely distinct touches to their look, like my made-to-order luxury ties.
How did you get started?
I love the challenge of menswear. When I finished my fashion design degree, it felt like EVERYBODY was designing womenswear. Men have very limited pieces in their wardrobe and often cannot be as adventurous as women with their clothing, so I always felt the tie was a great statement piece to show off their personal style.
I always knew I wanted my own clothing line. When I first sought inspiration, I felt the ties available in the market were pretty humdrum. I saw a design opportunity there. I thought, "If you have to wear a tie, why not have some fun doing it?" My goal was to always make ties that you actually WANTED to wear. Starting in my kitchen with just a sewing machine and a card table, I created my first ten ties and launched Rachel Park Designs.
What is your background?
I was fortunate to have an aunt who showed me how to sew at a young age. Growing up, making clothes for family and friends, I would get that exciting feeling of, "Hey, I made that!" whenever I would see someone wearing my designs.
To this day, that feeling hasn't changed for me as a fashion designer.
What inspires you & your work?
I've always loved the creative process. For me, I'm most inspired when I'm in the fabric store, seeing all the bolts of fabric and thinking of all the possibilities. To see something go one day from a bolt of fabric to then become a beautiful, finished garment is so exciting!
What's your best advice today for your younger self, just starting out?
Understand your market and target them. When I first started out, I said yes to pretty much everything in hopes of exposure and growing my brand. When that didn't happen, I didn't understand why and would get discouraged. Eventually, you learn "no" isn't a bad word and that you won't please everyone. You have to know who your client is and focus on them. I finally realized my ties aren't for everybody...and that's ok.
Believe in yourself; it all starts from there. Have enthusiasm and confidence in your product and brand! If you don't, how will anyone else?? Also, embrace your imperfectly authentic story, whatever that may be; it is all part of your brand and what makes you unique.
Who would you love to work with that you haven't yet?
There's so many amazing talents within the menswear community! To name a few, I'd love to work with Bindle & Keep (their work & documentary, Suited, is so beautiful), Courtney & Donnell Baldwin of Mr. Baldwin Style — whose Grooms Book is a must-read! — plus the incredible stylist, Apuje Kalu (who shares my love of bacon)!
As a fellow woman working in menswear, I'm always amazed by the red-carpet looks of Ilaria Urbinati, who also loves the details! (How she dresses so many clients while still honoring all of their individual styles is beyond me; she's so incredible!)
What do you love about working with menswear?
Menswear is about timeless classic pieces, not trends, and there is a great respect for craftsmanship. High-quality menswear often has incredible, secret details in the construction, and for me, that's where the beauty lies. I love when a garment can be just as beautiful on the inside and discovering these hidden gems.
Plus, I like that not a lot of women are working in menswear, so it is a great way to distinguish myself as a fashion designer.
What is your "style signature?"
Originally, I found the saekdong (the stripe that features many colors) while fabric shopping in Seoul, South Korea. I began incorporating it into my ties shortly afterwards. As a Korean ADoptee ("KAD"), I always try to add a Korean touch to my ties to represent my cultural duality, so my silk ties created with this Korean tipping could not be a more perfect symbol of my designer signature.
What are five fun facts that we may not know about you?
I'm a triple-negative breast cancer survivor. After over a year of 15 rounds of chemotherapy, three surgeries and 32 radiation treatments, I'm thankful to currently have No Evidence of Disease (NED)!

I'm a transplanted New Yorker now living in L.A. (I miss walking everywhere and finding a good bagel.)

I have a pet pug, who was instrumental in my healing during my breast cancer treatment.

I used to live in Madrid, Spain, so everyone expects me to speak Korean (I don't)...but then are shocked when I speak Spanish.

After years of creating custom ties for other people's weddings, I became engaged this year to my AMAZING boyfriend, who not only shaved my head when I couldn't bear to look, but he stood by my side — literally & figuratively! — during cancer and beyond. (There is something so sweet about becoming engaged AFTER cancer; that whole "in sickness and in health" part isn't really a question.) ❤️
***
Can't wait to share more inspiring stories about menswear creatives of color with you here! To learn more of my story, please visit the About page, or connect with me on Facebook, Instagram or Twitter.
Want more inspiring stories about menswear creatives of color? Sign up for my newsletter and get them directly in your inbox.